Engineering Repairs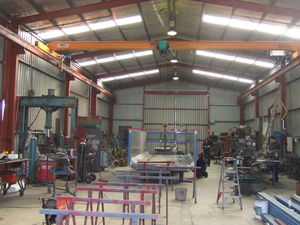 Between all of the employees of D-CAM Enterprises there is a vast amount of varied experience to carry out just about any kind of engineering repair or modification that a customer could think of. From repairing stock crates to your aluminium tinny we will endeavour to solve your problems for you. If we can't do it for you we will try and steer you in the right direction.
We are at present expanding our premises to accommodate the larger types of jobs more readily, especially during the winter months when working halfway out the door is not an option. We have recently installed a 3.2 tonne roof crane in the workshop which compliments our 5 tonne yard crane perfectly.
See attached photo in general work shop folder.